STRATEGIC ACCOUNT MANAGEMENT
Strategic Account Management
Brilliant Sales Account Management—Brilliant Services Account Management

The training and consulting you need to brilliantly get and grow good business with your key accounts.
BRILLIANT STRATEGIC ACCOUNT MANAGEMENT PROCESS

1. Brilliant Sales Account Management Workshop
Overview
Turn suspects into prospects and prospects into customers. Get more deals easier and faster.
Details
Are you looking for ways to:
Improve your win rate?
Compress the buying cycle time?
Block out the competition?
Generate great referrals and WOM?
CLICK HERE
to download more information.
2. Brilliant Services Account Management Workshop
Overview
Turning key customers into clients and clients into champions.
Details
Are you looking for ways to:
Speed adoption?
Minimize churn?
Grow the business?
Generate great referrals and WOM?
CLICK HERE
to download more information.
Overview
Cheap and Easy
For about the price of a movie matinee (with Coke and popcorn, of course), you can tap into Alex's best thinking on successfully building brilliant service within a product company.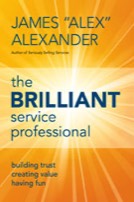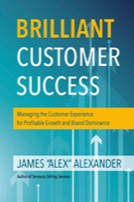 Details
Brilliant Customer Success
Customer success is an organization philosophy and strategy that, properly implemented, will build customer loyalty, drive profitable revenue, and create brand dominance. Brilliant Customer Success defines a performance model and outlines the customer success journey that is applicable to almost any organization whether traditional or cloud, large or small, profit or non-profit, in any industry or any geography. This research-based, experience-proven book is a clear, practical, and insightful guide for anyone serious about customer success.

The Brilliant Service Professional
Senior managers from all types of businesses across all industries are discovering that one role takes the spotlight in deepening relationships with key customers. Whatever title individuals in that position are given—field service technician, support engineer, implementation consultant, customer success manager, services account manager, resident engineer, technical account manager—no one has more potential impact on the success of the company and its customers than the service professional...no one. High-performing service pros are where the action is, orchestrating superb customer experiences, proactively preventing problems before they occur, and leveraging their relationships to rock out customers and lock out the competition. They deliver the results customers crave and executives yearn for, while building brand and having fun.

Designed for anyone in service who touches the customer, The Brilliant Service Professional uncovers the competencies, tools, and behaviors that enable service pros in any industry to shine as the new corporate rock star.
Purchase
Visit Amazon to purchase your hard copy or e-book:


Reviews
"
Brilliant Customer Success
is, in nutshell, a brilliant piece of work! Alex has taken the complex topic of customer success and provided a clear foundational road map for delivering profitable customer success in any size organization."
Aaron Woods
Director, ASP Relationship and Programs,
Lean Six Sigma Certified Green Belt,
Xerox US Channels Group/Channel Partner Operations


"Alexander has a knack for taking mind-bending and snore-worthy topics and turning them into a magnetic read. Readers of The Brilliant Service Professional who take his advice will become service pro rock stars. They'll boost their relationships, build a dynamite personal brand, gain job security, roll in the dough, and have a blast doing it all."

Meryl K. Evans
Senior Editor
InternetViZ
On-Demand Webcasts
Brilliant SAMs Seriously Sell Success
No one has more impact on growing revenue and driving loyalty than the brilliant SAM (strategic account manager)…no one. SAMs proactively persuading your customers to make decisions that drive their success?
Secrets of Service Account Management
This action-packed session answers the most asked questions about the secrets of stellar service account management, including account "ownership," becoming a trusted advisor, the SAMs role in selling, issues and challenges, and more.
The 4 R's of Service Account Management
This session covers the 4 R's of effective service account management: Resolution, Retention, Revenue, and Relationships. Get practical ideas and useful recommendations that will take your service account management organization to the next level.
Service Account Manager: The New Corporate Rock Star
Learn the 5 steps to transitioning from today's SAM to a proactive, strategic-thinking, value-creating corporate rock star. Covered are new knowledge and skills requirements, building trust-based relationships, and more.
The Evolving Role of the Service Account Manager
Topics include relationship skills, trust building, becoming a value creator, and the benefits of effective service account management.
Building and Leading a Rock Star SAM Organization
Learn what it takes to build a great service account management organization. Designed specifically to help those responsible for leading service account managers (SAMs). Covers issues, opportunities, and best practices in leading SAMs, and more.
The Brilliant Service Account Manager: Orchestrator of the Customer Experience
Learn why SAMs are they key drivers of the customer experience. Covered in this webcast are how to build trust-based relationships with key customers, gain more business in existing accounts, and create a competitive advantage for the organization.
With over 20 years focused on building brilliant service within product companies we know what works and what doesn't. In fact, we guarantee all our work…if you are not totally satisfied, just pay what you feel our efforts are worth.

Avoid the failure pain, and enhance your success gain.
Contact Alex at 239-671-0740.