TECHNOLOGY PROFESSIONAL SERVICES
The professional services consultant has a major impact on the customer experience. Do you need to build trust faster? Do you want your consultants to uncover new sales opportunities. It's time to turn your technical experts into brilliant PS pros.
MOST IMPORTANT CAPABILITIES REQUIRED OF THE PROFESSIONAL SERVICES TEAM

Source: Alexander, James A. 2016. Brilliant Customer Success: Managing the Customer Experience for Profitable Growth and Brand Dominance. Alexander Consulting.
1. Train Your Professional Services Consultants
Overview
Transforming your people into brilliant service pros builds trust, creates relationships, and generates new sales, but it requires significant change in the attitudes and behaviors.

Bring Alex into your organization to teach a two-day training session on becoming a brilliant professional services consultant.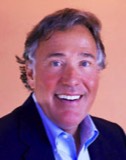 Details
Here's a brief outline of the topics covered:
Module 1: Transforming from a Technical Expert to a Brilliant Professional Services Consultant
Module 2: Creating Trust
Module 3: Building Customer Acumen
Module 4: Mastering the Four Core Relationships Skills
Module 5: Influencing with Integrity
Module 6: Managing Expectations
Module 7: Taking Charge of Your Time and Your Life for Peak Personal Performance
Module 8: Mobilizing Your Personal Plan of Distinction
Blended Learning Option: Sometimes budgets and the challenges of travel make face-to-face training difficult or just not doable. Therefore, all of our training is also available online. Using a live webinar format, and an interactive community augmented with tools and materials, most courses are completed within three weeks.
Click here
for more info.
Testimonials
"Alexander's strong credibility as a consulting practitioner and his engaging presentation style combine to make him a big success in addressing my organization."
Rick Welch, Vice President Professional Services
RSA Security Inc.

"Alexander is definitely a thought leader in services. Not only does he have a great base of knowledge, he is an excellent communicator."

Patrik Melander, Director, Network Consulting
Ericsson Latin America

"Dr. Alexander is an energetic, dynamic speaker who knows what he is talking about. He does his research and has all the facts about his subject matter. He has spoken at our global conference on several occasions and I highly recommend him."

Claudia Betzner, Executive Director
Service Industry Association
Overview
Short and Sweet
Kickstart your services initiative. Bring Alex in for an executive briefing, keynote speech, health check, readiness review, or best practice analysis.

Learn what it will take to become world class.
Details
Executive Briefing
An executive briefing is a great way to kickstart your services initiative to transform your team from technical experts to trusted advisors by understanding the plusses and minuses and learning how to minimize risk.
Keynote Speech
A keynote speech is a powerful tool to get your message out to your entire organization and speed commitment and motivation to your services strategy.
Download Alex's Speaking Profile.
Want to learn more?
Contact Alex
for a complimentary expert discussion.
Overview
Quantify and Verify
Find out how ready your organization is for Brilliant Service.

(To be used in addition to the half-day executive briefing or by itself.)

If you are considering making significant changes to your approach to services, a Readiness Review is the way to go. If you have a mature services organization, a Best Practice Analysis can help take you to the next level of performance.
Details
Readiness Review
Are you ready to change? What are your chances of success? What are the problems you must solve and the opportunities you must leverage?

At the core, a readiness review includes interviewing a sampling of key internal players (executive, service leadership, service professionals, sales management, and sellers) to learn their issues, concerns, and ideas around growing services. Normally, a combination of individual interviews and focus groups are used, over the phone or in person.

Alexander Consulting analyzes the data and develops a report outlining strengths, weaknesses, reactions, opportunities, options, and recommended next steps. This information can be presented face-to-face in a two- to four-hour interactive session, or in a two-hour conference call.

Best Practice Analysis
Want to learn how you stack up? Learn what it will take to become world class.
Overview
Even the very best can benefit from some expert feedback when doing something new. Do you have some high-potential folks whose performance you'd like to accelerate? Speed and smooth the journey with expert coaching.
Want to learn more?
Contact Alex
for a complimentary expert discussion.
Overview
Cheap and Easy
For less than the price of NASCAR parking you can tap into our best thinking on successfully building brilliant field services within a product company.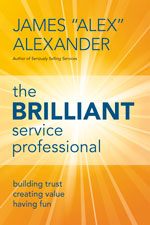 Details
The Brilliant Service Professional
uncovers the competencies, tools, and behaviors that enable field service pros in any industry to shine. Key theme examples include:
Executives' changing expectations of the service provider.
What BSPs do that others don't do.
How the BSP influences with integrity to help the customer become more successful.
Potholes on the path to perfect performance.
How to establish trust fast, using the seven trust-building behaviors.
How to plan for and engage customers in worthwhile conversations.
Understanding how to create value.
Effectively working with sales and other departments.
The service pro's role in helping get new business.
How to say no with confidence and style.
Reviews
"
The Brilliant Service Professional
is a fantastic road map to success. Whether a seasoned executive or just cutting your professional teeth, the Brilliant Practices and Shining Examples reinforce our foundation and motivate us to be the best. Alex Alexander is Tom Hopkins, Harvey Mackay, and Malcolm Gladwell all wrapped into one. In our new service economy, BSP will help advance our position in the world market. If you have customers, you need to read this book!"
Chris Zane
Founder and President, Zane's Cycles, and Author of
Reinventing the Wheel: The Science of Creating Lifetime Customers
Articles
Below are articles of particular interest to service leaders in product companies who are committed to building brilliant services within their organization.

Videos
Leading the Brilliant Service Organization Series


This series of videos are for service leaders within product companies who are committed to building an outstanding service business. More videos will be added on an irregular basis. If you want to know when, sign up for our (you guessed it)
complimentary monthly e-newsletter
,
Alexander Insights
.
View
"How to Become a Brilliant Service Leader in a Product Company"
now:
View "Assessing Your Services Organization Quickly and Easily: 4 Steps to Brilliant Services" now:
View "Brilliant Service Professionals Sell Services: Influencing with Integrity" now:
With over 20 years focused on building brilliant field services within product companies we know what works and what doesn't. In fact, we guarantee all our work…if you are not totally satisfied, just pay what you feel our efforts are worth.

Avoid the failure pain, and enhance your success gain.
Contact Alex at 239-671-0740.